The Authentic Artist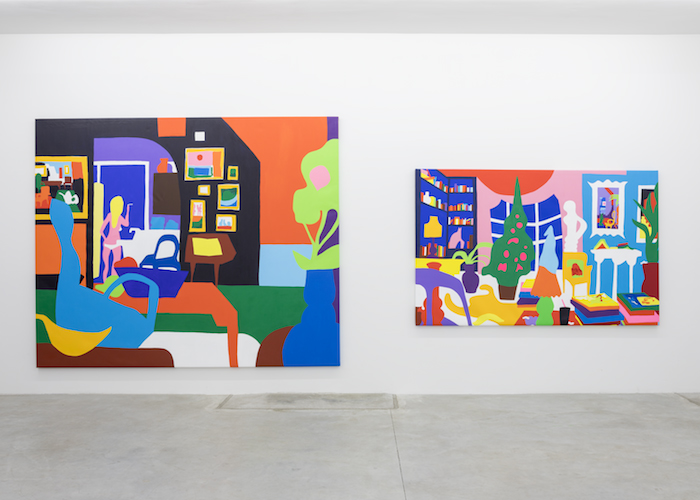 Todd James, New York-based artist is currently at Eighteen Gallery in Copenhagen.
THE AUTHENTIC ARTIST
Review by Louise R. Christensen.
30. January 2018.
Todd James, New York-based artist is exploring home without the display of electronic devises, back to basic using canvas and acrylics. The Interior series is currently at Eighteen Gallery in Copenhagen.
He is mature, being in his forties and wants to have a say on the more traditional artwork, coming from a graffiti and Hip Hop background. This collection focuses on the imagery of being at home, often with a woman.
The shapes of strong screaming colors are for everyone to see and enjoy.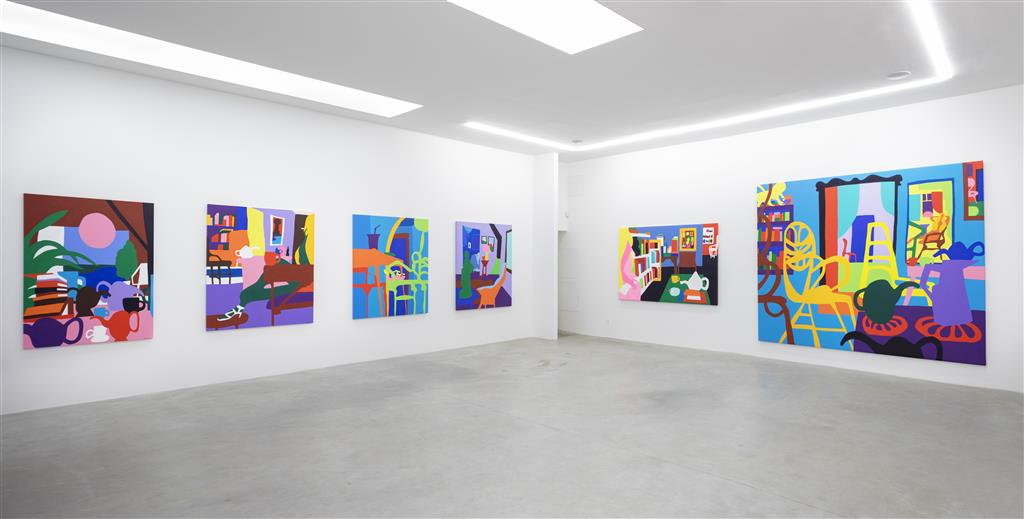 Photograph: Eighteen Gallery.
Color Collage
The strongly lit white painted room in the gallery has been attacked by bright colors, as if they are lit from behind like a display screen.
Todd James's regular use of irony or being highly humorous in his art has in this series been abandoned, which is new and a bold move. It is no longer in the imagery, instead in his signature shape of the bright backlit looking colors. Though the wonderful woman is still here.
Photograph: Eighteen Gallery.
Taking the Time
The reflective mood is often absent yet important in the online life most people live today, because of all the platforms, that takes the time away from being you.
The collage of interiors within the collage of interiors gives the viewer a moment to feel what home is. Home as the place to reflect, to relax and to leave, the electronic devices, out of sight for a moment.
The irony is lurking though, through the neon colors of the paintings, which takes us back to present time.
Through the absence of electronic devices, Todd James gets back to old school home interior to take a time out and just enjoy the subtle shapes that he masters well.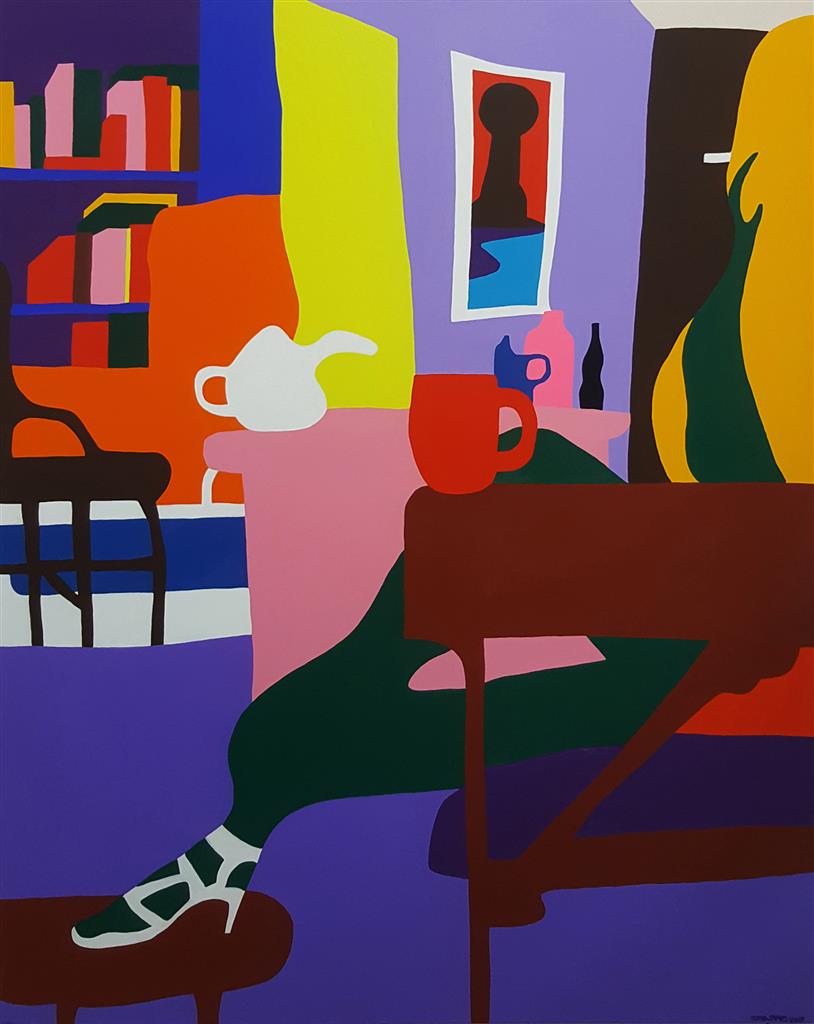 Photograph: Eighteen Gallery.
The Reflective Artist
His background in graffiti and Hip Hop music has been a great start for him as an artist. He was the alias REAS in 1982-1986 and again in 1988 in the NYC subway system.
In 1987 being 17 years old, he did Brooklyn Dust Music Elephant logo for The Beastie Boys and later the logo for The Source Magazine.
Todd James has proved that he manages and explores different genres. He is an authentic artist worth exploring. Take a look at some of his other artistic projects.
In 2000:
Def Jam Recordings commissioned him to illustrate Redman's video game-styled mascot for the album packaging of Malpractice.
In 2007:
V1 Gallery, Copenhagen. Trouble. The imagery of military themes with weapons, skulls and blood offered an eye opening depiction of modern politics.
In 2008:
Nike apparel department commissioned a character for The Running Man.
In 2012:
Nanzuka Gallery, Tokyo. Yield To Temptation, where he uses outline and childlike drawing style for the naked women and cats mostly portrayed in this series.
In 2013:
Lazarides Gallery, London. World Dominations, Somali pirates carrying AK-47s against tropical backdrops with palm trees, the sun, the sea and military tankers and blonde women wearing sunglasses, and carrying guns.
Miley Cyrus at MTV VMA had commissioned him to make bears for her performance. He made a 20 foot-tall background bear. Twelve bubble gum pink bears and six bear suits to strap-on the dancers.
In 2015:
Lazarides Gallery, London. Fantasy Island, a satirical showcase full of guns and people in relaxed positions in the sunset and a UN soldier with an AK-47 in one hand and his noble parts in the other relieving himself, one is called PeesKeepingForces.
Pharrell Williams and Adidas Men commissioned him for the sneakers series Superstar.
See Interior by Todd James at Eighteen Gallery in Copenhagen until 24. February 2018.
Skriv en kommentar

*